Futaba 9C Product Review
(This is an independent review of the Futaba 9C radio. Radio was purchased with our own funds.)
Overview
The Futaba 9C radio control system is one of the best currently on the market. The average to advanced rc pilot will be thoroughly satisfied with the features and performance of this nine (9) channel system for a long, long time.
The basic radio has eight (8) model memories, and many fliers opt for the module that expands this to fourteen (14).
The radio comes in helicopter (9CH) or airplane (9CA) versions. The switches and throttle on the 9CH are optimized for helicopters, but they work with airplanes just fine.
We use our 9CH for both helis and airplanes. The 9C family of radios transmits in both standard FM and the PCM mode.
You can select a system with your choice of receiver type: either FM (e.g. 9CHF) or PCM (e.g. 9CHP).
Let's take a closer look at the Futaba 9C.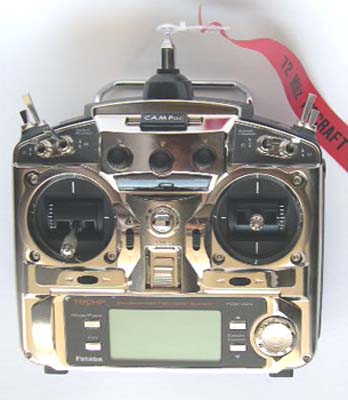 Fit and Feel
The radio has a really solid feel, and is neither too large nor too small for our average size hands. The weight and the snazzy chrome finish combine to give a feeling of quality. The large LCD screen and buttons/dial, combined with the very intuitive software, make programming really easy (more below).
The memory module (CAMPac) is simply inserted into a slot on the front top of the radio.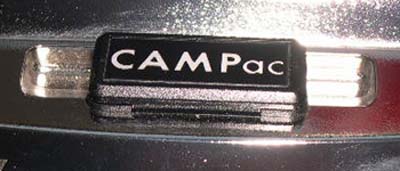 The radio frequency (RF) module also simply plugs in, on the back of the radio. It is easily removed for channel changes, or to save power when using a flight simulator. The radio can also be purchased with a synthesizer module, which allows you to select any available channel that you would like to use. It is more expensive than the standard RF module, but very convenient at crowded fields.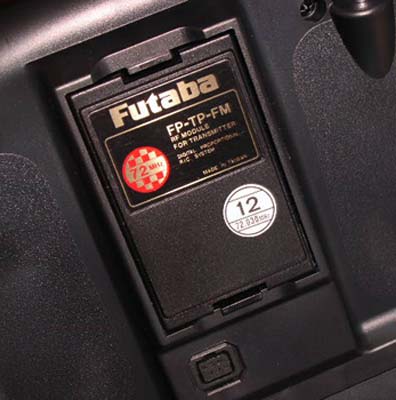 Manual
The Futaba 9C manual is 130 pages, but don't let that scare you. The pages contain explanations of each function of the radio, as well as practical examples.
This is explained in a tabular format with mini diagrams of the various buttons that need to be pressed to get the function programmed. This makes it really easy to understand what to do.
See this:Sample Page from the Manual to view how thorough the instructions are.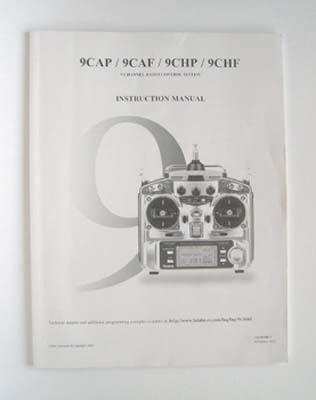 You can also view the entire manual, here:
Futaba 9C manual
Programming
This radio is really easy to program, even if you are not fond of computers. It has four buttons and a large rotary dial near the front bottom of the case. For feedback, there is also a large, easy-to-read LCD screen.
This will display basics such as model name, type, timer and voltage. The screen also does graphics such as helicopter setup curves.
We think the best display is that of servo position: you can see graphically which servos move in which direction when the sticks move.
This is extremely useful when setting up mixing functions.

You push one button (Mode) to get to the Futaba 9C programming menu. The rotary dial helps you find the function you need, very fast.
Then press the dial to open the function. Then modify the setting with the dial and/or cursor keys. Then push the End button to close the function.
It will take you only a few minutes to get used to this navigation system, which will save you lots of time when setting up your aircraft.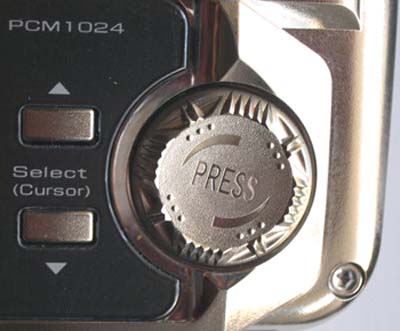 Features and Benefits of the Futaba 9C
Many manufacturers and vendors will provide long lists of features about their products.
Unfortunately for those who don't already know a lot about the type of product, a feature list can be meaningless if the benefit of each feature is not clearly explained.
Here is a summary of all the features of the Futaba 9C and their corresponding benefits:
| | |
| --- | --- |
| Features | Benefits |
| Rotary Dial for Programming | Very fast access to menu items |
| Assignable Switches | Customize the radio for your perfect fit |
| Digital Trims and Trim Memory | The trim adjustments for each model are stored in that model's memory. No trim adjustments when switching models. |
| Large LCD display | Easy to see radio settings and graphical output |
| Graphical Output | Easy to interpret the state of the radio |
| 8 model memory, expandable to 14 | Buy fewer transmitters :) |
| 8 character model naming | Much easier to remember than "model 1" etc. Less chance of using the wrong model. |
| Model Copy Function | Can start with a known model when setting up a new one. Do not have to reinvent the wheel each time. |
| Trainer system | Can help others learn to fly with cable connection. |
| 3 model types: acro, glider, helicopter | Start programming the model with typical functions for that type of model. |
| Available as 9CA (airplane) and 9CH (helicopter) | Switch positions optimized for each version. Rachet removed on 9CH throttle to allow perfect hovering. |
| Timer functions | Alerts for radio, onboard battery or fuel time. |
| Available with Synthesizer Module | Can be set to any channel, maximizing flight time. |
| EPA (End Point Adjustment) on every channel | Allows travel of the servo in each direction to match the required function, e.g. full throttle = carb barrel fully open. |
| Dual / Triple rates on elevator, rudder, ailerons, throttle | Allows for violent aerobatics and gentler flying on the same airplane, in the same flight. |
| Exponential on elevator, rudder, ailerons, throttle | Allows for violent aerobatics and gentler flying on the same airplane, in the same flight. |
| Digital Sub-trims | Subtrim allows exact positioning of each servo's zero point. |
| Failsafe Mode | With PCM receivers, radio can go into pre-programmed settings (e.g. low throttle) if signal is lost. |
| Servo reversing on all channels | Simplifies mechanical setup especially servo installation. |
Conclusion
The Futaba 9C computer radio is a fantastic value. Radios can be purchased for less money, but are sometimes outgrown quickly. The 9C's many functions and model memories, ease of programming and quality of manufacture will keep the average radio control pilot happy for many years.