RC Flight Simulators
Below you will find some info about these common RC flight simulators:
FMS
Realflight G2 and G3
Reflex XTR
Aerofly Pro
Also, check our hints and tips for getting the most out of your RC flight simulator.
If you are learning to fly radio control, also check out our convenient eBook
Learn to Fly RC.

FMS
FMS is a real bargain. The software is available for free! You can download the latest version here: http://n.ethz.ch/student/mmoeller/fms/index_e.html The program can be operated using your computer keyboard, if you do not yet have a transmitter. This is OK to get the initial taste but you will want/need to have a proper controller before long.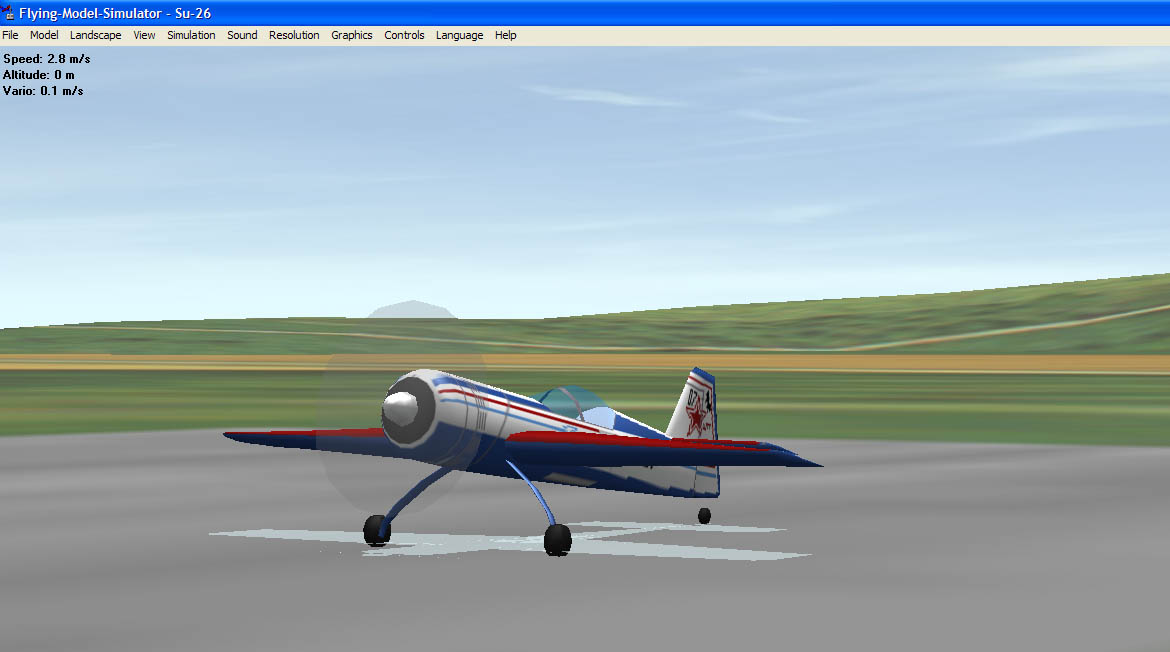 Screenshot from FMS showing Sukhoi aerobatic plane on takeoff run.
You can get cables to attach your transmitter to your keyboard for about $50 from HeliHobby (this comes with the program already on a CD).
If you are good with DIY electronics, you can try building your own cable using the information here:http://www.heliguy.com/nexus/fmsinterface.html
I did not have much luck with the DIY method (using a Tx that was not specified), but many others have.
Personally, I prefer building planes to building electronics :) Another possibility is to get a USB game controller. I've used a Logitech AxisPad dual stick controller (about $20).
Others have reported good results with this Logitech GamePad
controller.
If you go with either of these you may want to remove the spring on the throttle stick to make it more like an RC transmitter. This involves opening the case and drilling into the box holding the left stick.
If you are mechanically inclined, it's not too hard. If you'd like to try this, see our photo tutorial on making this mod.
As far as RC flight simulators go, is the program realistic? I've found that the flight physics are way too simple. It's easier to fly the planes or helicopters in the program than in real life.
However, the program is very valuable in that it will help the beginner: a) understand the required Tx stick movements, andb) overcome the orientation challenge (left/right controls get reversed when the rc plane flies towards the pilot) So is this program worth the (almost) free price?
In my opinion, get this if you are a beginner and on a tight budget. However, for a few dollars more, the other rc flight simulators listed here will take your skills a lot further in the long run.
Realflight G2 and G3
Realflight G2 is perhaps the most popular of the paid rc flight simulators out there. While I have no personal experience with this sim, there is a review here that helps explain its popularity: RC Universe
There is now a new and improved version G3, which boasts improved physics. Be aware that helicopters will not be available for this version until Spring 2005 (as a free download). You can purchase Realflight G3 here.

Reflex XTR
Reflex XTR is one of the newest generation RC flight simulators. The graphics are excellent and the flight physics good. I've played with a demo version and been very impressed with the flight qualities of the helicopter in the demo. Screenshots from the full version are photorealistic and stunning.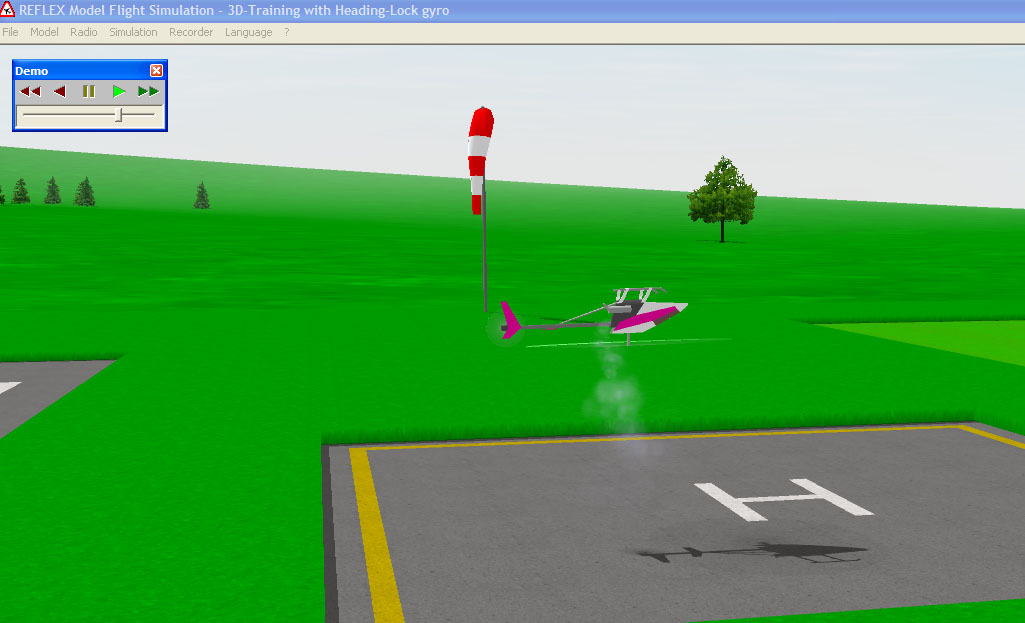 Screenshot from Reflex beta version (final version has stunning photorealistic graphics). Inverted helicopter hovering is best tried on a simulator first...

Click here for a thorough review of Reflex XTR: http://www.modelairplanenews.com/reviews/mrcreflex_1.asp You can purchase Reflex XTR here.

Aerofly Pro
Aerofly Pro is one of my favorite simulators. It saved me many thousands of dollars in crash costs while learning to fly RC helicopters :) This program has very realistic flight physics and decent graphics.
There's a dedicated cable to connect your own Tx to your computer. This allows you to get used to flying with your own transmitter.
There is also a version that comes with a controller, but I would recommend getting comfortable with the Tx that you will use at the field.
The standard program comes with both planes and helicopters. An expansion pack is now included for free.
There is also a "Deluxe" version available with lifelike photorealistic sceneries. You can in fact install photorealistic sceneries into the basic AFP, here's our tutorial.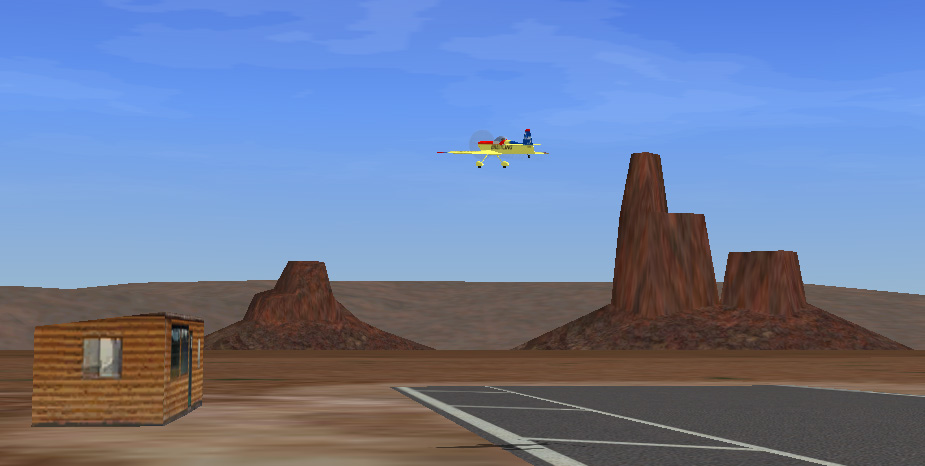 Screenshot from AeroflyPro: climbout with desert backdrop.

You can read more about the features of this program, check system requirements, and view some neat videos of the program in action, at: http://www.aeroflypro.com
Be aware that the cable comes with a serial connector, and many newer computers no longer have serial ports, as USB is becoming the standard.
You can purchase a serial to USB converter for less than $20 at www.sfcable.com . The "deluxe" program version has USB connectivity built in. AeroflyPro is for sale here.