Scale Models - Make your own Decals and Markings
Sometimes your scale models require that you make your own markings.
Here are some basic techniques that you can use to do this:
1) Peel-and-stick trim sheet
These sheets are meant as a supplement to iron-on plastic coverings. You cut your own trim shapes and apply them to the covering. This material is also great for cutting out letters, numbers and other markings.
The letters in the example below were done with black Monokote trim sheet. The letters were first printed from a home PC, then the print paper taped over the trim sheet.
A sharp x-acto knife was used to cut the letters out, which were then applied to the model with soap and water.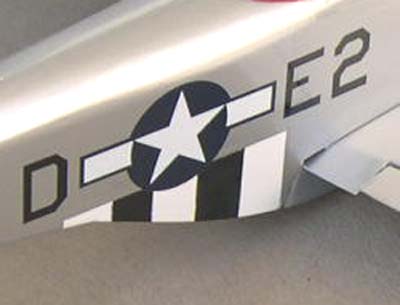 2) You can print directly onto clear label sheet. Avery is one maker of these sheets. It's a good idea to seal the sheet with a clear gloss spray (before applying to the model), to protect the ink in the marking .
3) If you're a fan of water-slide decals, you can purchase blank decal paper for use in your home printer. Papilio is one vendor of this paper (www.papilio.com). Again, a clear over-spray is recommended.
4) You can also paint your own markings, which is generally what's done with full-size airplanes. This will require that you use various types of Masks and Stencils. This is usually more tedious than applying a pre-printed marking, but the results can be very realistic.