Scale Models - Weathering
The word
weathering
is used to describe visible wear and tear on an airplane. This may be from the actual weather (e.g. sun-faded paint), or from operations (e.g. paint peeling, oil smudges, smoke stains). Here are some useful techniques to create a weathered scale model:
1) Paint will often peel from airplane surfaces over time. Paint chipping on a scale model can done with silver paint and brush, or silver paint pen. Locations: walkways, leading edges, canopy frames, propeller edges. Study reference photos of the real thing to know where to make your paint chips.
2) Use soft pastel chalks from the craft store to make smoke and gun stains. Alphacolor makes a nice 12 color basic set. Wear gloves when applying pastel chalks, otherwise you will leave fingerprints all over the model. Scrape a bit of chalk powder off with a blade, then use a fine brush to apply the powder on the model. Draw the brush in the direction of the airflow. Gently blow off the excess. If you are not satisfied with the look, you can either apply more or wipe it off with a damp cloth and start over. When finished, seal with a clear overcoat.
3) Tamiya Acrylic "Smoke" is useful for simulating smoke stains. Airbrush away from the exhaust or gun nozzle, pointing the airbrush towards the downstream direction of the airflow.
4) Panel Line Shading. The darker areas near the edges of panels can be simulated by applying masking tape to the panel line, then airbrushing the downstream side of the panel line. Use highly thinned black paint or Tamiya smoke. You can achieve the same effect by hand-brushing pastel chalk powder, as shown below.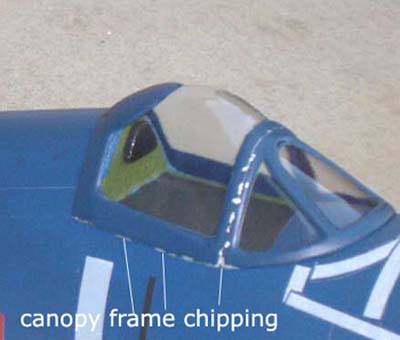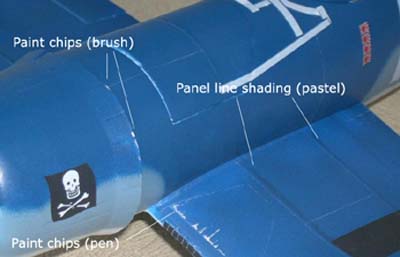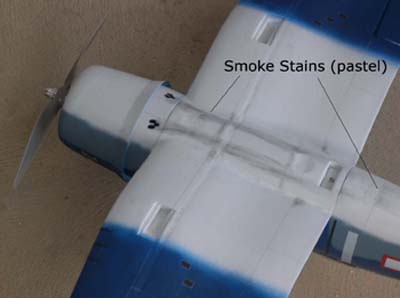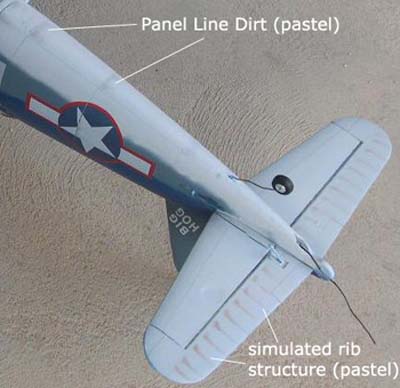 When done with all of your weathering, seal everything in with a final coat of clear acrylic. This is especially important if you used pastel chalks, as that material can be easily spread over the model during normal handling (and create out-of-scale fingerprints).